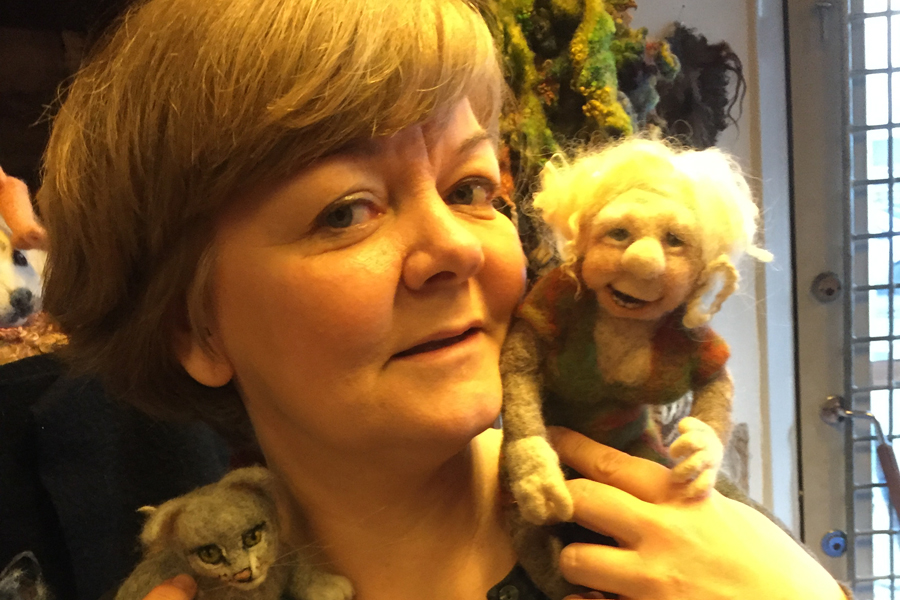 In my studio (workshop) in Holbaek I give individual courses for one student at a time. The studio is situated 5 minutes walk from Holbaek railway-station.
Each private course takes between one and three afternoons.
You can choose between the following three themes or we can talk about what you would like to learn
Course number 1:
On this course you can learn how to needle-felt a little funny figure. You start with a face that is builded rather simple, but you can add more details, that makes it exiting and funny to work with. You can also add a body-shape to it, with arms and hands  which makes it perfect for playing theater with, or it can be a fine story telling figure.
Course number 2:
Here you can learn how to needle-felt a more detailled face. You learn how the face is builded with my latest new techniques, which gives possibillities to give the face different expressions and you learn how to needle colors and shadows on the face with what I call my aquarell technique. You also learn how to get a smile on the face and how important the hair is for a face.
Course number 3:
Here you learn how to needle-felt a little sitting dog, where the body-shapes, part after part are needled together. You learn to felt a little sweet dog-face and after that you can choose between different kinds of raw fleece for the dog, so you can make different kinds of dogs.
instead of a dog you can also choose to felt a cat, and here you learn to needle the body-parts together in the position you like the best.
You can call me on +45 59 43 93 16 to hear more about the courses.