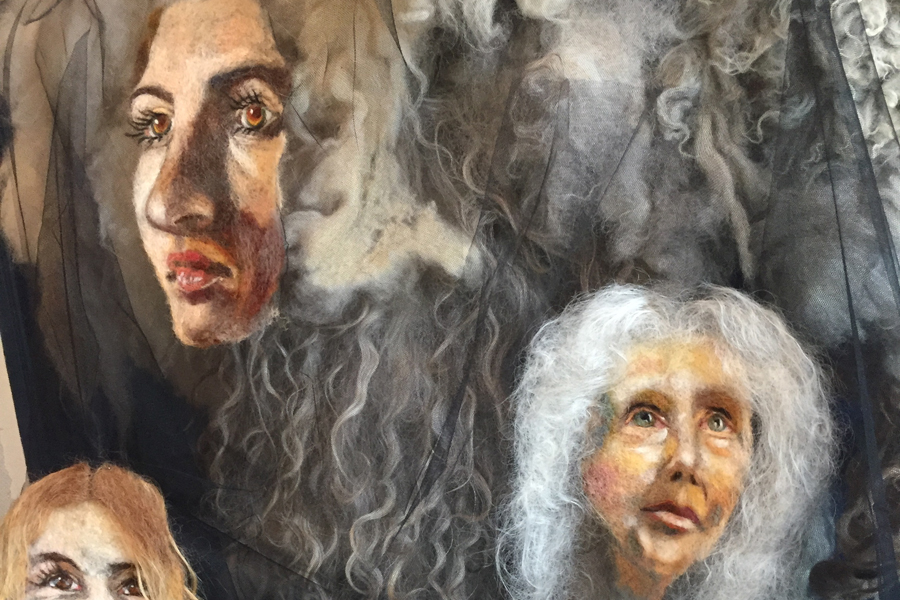 I had my first exhibiton in 1986. I have had exhibitions at museums, in galleries and at different events, including:
Gallery Röda Tråden, Malmö, Sweden.
Gallery Kirke Sonnerup Kunsthåndværk.
Kunstindustrimuseet (the Danish museum of arts and crafts), Copenhagen.
The art association, Nordic Brown Boveri, Copenhagen.
Gallery Dragsholm Castle.
Musée du Feutre, Mouzon, France.
Gallery Rådhusgalleriet, Copenhagen.
Gallery Museumsgalleriet Lenzen, Germany.
Silkeborg International Children Theatre Festival.
The Toy Museum, Kecskemet, Hungary.
Gallery Tørning Mølle.
Gallery Højris Castle.
Holbæk Museum.
Sorø Museum.
Copenhagen Cultural Capital 1996, Jytte Abildstrøm's Theatre.
The Danish Institute of Culture, Kecskemét, Hungary.
Magic of Puppets, Taastrup Theatre
Michigan Fiber Festival, USA
Black Sheep Designs, Rensselaerville, New York
Galleri Bryggen, Bergen, Norway
Norwegian Feltmakers, Hamar, Norway
Midwest Felt Symposium, USA
Høje Taastrup Rådhus
"Uge 33", Det Røde Pakhus, Hobro
Munkeruphus, Dronningmølle
International Polar Year Exhibition 2009, Alaska
"Felt In Focus", Odense Rådhushal
Danish felt union Grima jubilee exhibition, Silkeborg Denmark
"Uge 33", Det Røde Pakhus, Hobro, Denmark
Scandinavian feltmakers exhibition "Nordlys", Hobro, Denmark
Filteudstilligen "Nordlys", Det Røde Pakhus;Hobro
"Uge 33" Det røde Pakhus, Hobro 2012
Art-days Pinsen Odsherred 2014
Kunst & Kultur Im Güterschuppen 2015
Felt in nature project, Fjordgården Holbæk
Tuse Næs Kunsthåndværk, womanexhibition. 2016
Frederikssund Kunstforening, Langes Magasin, 2016
Northern Landscape, Pohjoinen Maisema Finland 2017
Vallekilde kunstnerne, Albertslund Kunstforening 2017
"Det tynde slør" Munkebro Roskilde
Akvarel "æble" udstilling Huset På Næsset 2017
"Uge 33" Det Røde Pakhus Hobro 2018
Mermaid exhibition during the summer at Holbaek harbour area. 2019
Other felting projects
Written the books "FILT I FORM" (Felt in Form), "SKULPTUREL FILTNING" (Sculptural felting), "NY FILT MED FILTENÅLEN" (New felt, using the felting needle), "NISSEFILT MED FILTENÅLEN" (Pixie felt, using the felting needle),"DYREFILT MED FILTENÅLEN" (Animal felt, using the felting needle) and "FILT NEMT OG SJOVT" (Felt, easy and fun)
Made sculptural dolls for Jytte Abildstrøm's Theatre, Copenhagen.
Made set design and dolls for the operatheatre Undergrunden, Copenhagen and the theatre Konkylje, Svanekegården, Bornholm.
Made animated mask for the Danish Television.
Made felt project for women in South Greenland.
Participant and teacher in felt symposiums in Germany, Holland, Hungary, Switzerland, Norway, USA, Finland, Sweden and Australia.
"Felt in Nature" projects in Denmark and Norway.
Made mytologic roominstallation med felted women in natural size, together with Guri Petersen
Made chairproject with mythologic women and a womans genealogy  illustrated on a waving chair.
Made Christmas-hat project, with several different decorated hats.
Made H C Andersen project for Benedicte Riis.
Made theatre-dolls for Teatergården Holbaek.