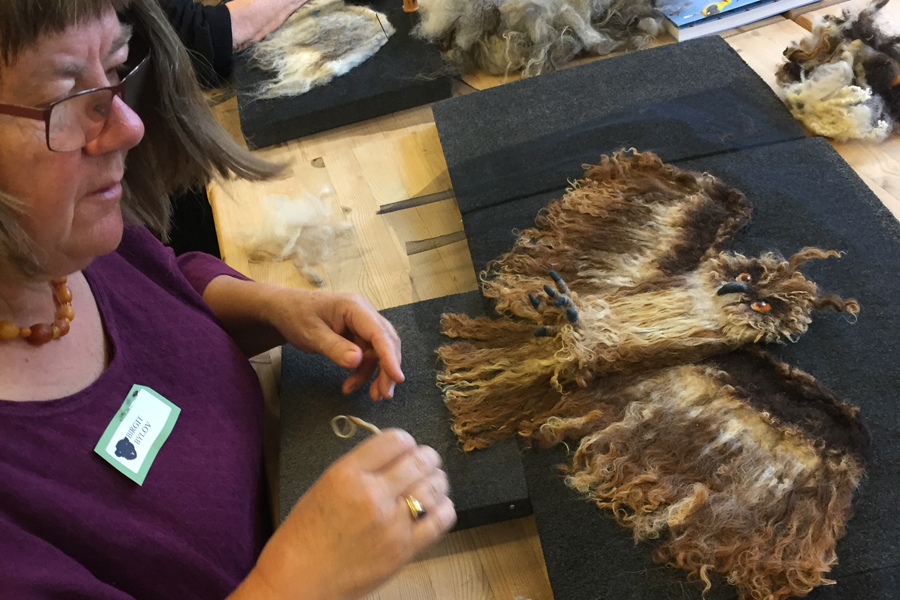 I have developed a number of felt techniques and for many years I have been teaching these techniques on group courses all over the world.
Currently I am taking a break from the group courses, so no courses are available – neither in Denmark nor abroad. 
The courses have usually included one or more of the following elements:
Sculptural felting
These courses can be organized in different ways. You either choose between 2-3 techniques and work individually, or everybody work with the same theme and inspire each other. The themes can be:
The sculptural doll with the soft sculptural technique.
Needled figures made in parts and put together in moving positions.
Felting your favorite animal.
Relief felting, including felting the subject directly in the raw fleece.
Landscape felting with the trees in relief.
Fantasy figures, where the beginning of the course is, to make you open up to your fantasy.
Portrait course.
See the feltmaking-page for more details on some of these techniques.
Intuitive felting
You work intuitively – starting with a joint instruction (usually the face will be the start here).
Felting in nature
The purpose of these courses is to give nature an extra dimension by leaving our felted things there and let them be a part of the nature. A part of the process is also to realise that you don't bring a thing with you home like you use to on courses. Slowly while you work you get accustomed to the idea and it feels natural to leave your felted signature because it is made there on the place and it belongs there and you can let it free. The felted things will gradually perish . For some it can take years but for others it will go quicker. Some might be stolen if they are at a place where many people come but it is a part of the process to realise that.